Home
/
News
/
Forging Sustainable Futures: ASEAN and the UK Collaborated in the Workshops on Competition, Consumer Protection, and Sustainability
Forging Sustainable Futures: ASEAN and the UK Collaborated in the Workshops on Competition, Consumer Protection, and Sustainability
ASEAN , 27 July 2023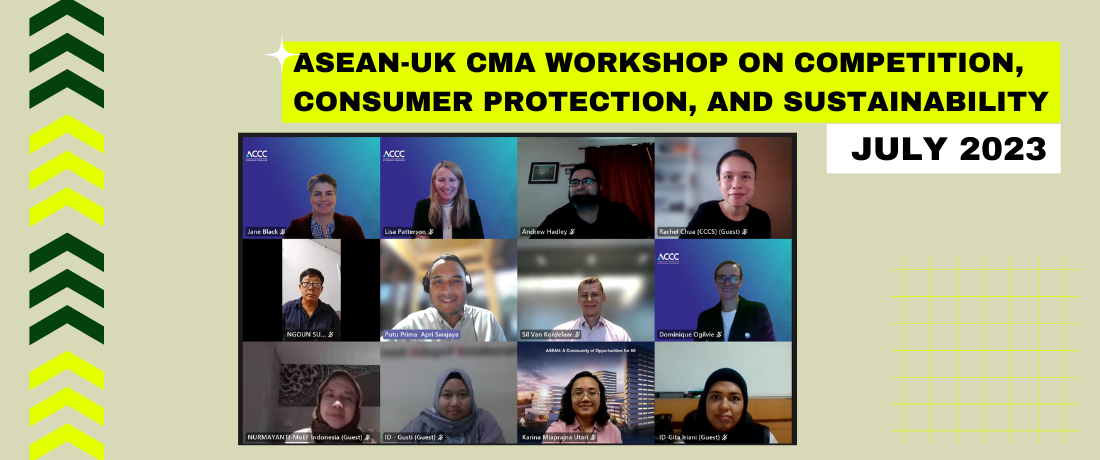 Jakarta, 20 and 27 July 2023 - The ASEAN Experts Group on Competition (AEGC) in cooperation with the UK's Competition and Markets Authority (CMA) conducted a virtual workshop on Competition and Sustainability on 20 July 2023 and on Consumer Protection and Sustainability on 27 July 2023. These activities are part of a continued cooperation between the AEGC and the CMA, with the topic on sustainability chosen based on one of AEGC's priority capacity building topics for 2023 and Indonesia's ASEAN Chairmanship Priority Economic Deliverable (PED) for 2023. The Sustainability Taskforce of the Australian Competition and Consumer Commission (ACCC) has enriched the discussion at the workshop by sharing their initiatives on sustainability issues and presenting alongside the CMA and ASEAN speakers.
The Workshops provided an invaluable platform for competition and consumer protection officials in ASEAN Member States, the UK and Australia to share information and experiences from respective initiatives aimed at addressing and promoting sustainability issues. The workshops explored measures adopted by Singapore, the UK and Australia to promote competition while driving innovation towards more sustainable production practices and advancing sustainability goals. The speakers shared how competition agencies and consumer protection agencies can contribute towards their respective national sustainability agendas and plans, the role of a 'sustainability task force', and the assessment of business collaborations pursuing environmental sustainability objectives. The CMA explained that it is seeking to support sustainability initiatives by developing guidance for business on the types of collaborations that are permitted within competition law, that they enhanced the impact of their guidance by using business-friendly language and have welcomed businesses to approach the CMA for further informal guidance if required. "The CMA's commitment to help accelerate the UK's transition to a net zero economy is a renewed acknowledgement of the power of markets in driving sustainable solutions, and the role that competition and consumer regulators have to play in meeting environmental goals more quickly or efficiently," said Sandrine Delarue, Assistant Director in the CMA's Policy and International Team. As the topic of sustainability also extends towards the area of consumer protection, representatives of the ASEAN Committee on Consumer Protection (ACCP), ACCC and the CMA presented initiatives, policies and best practices on sustainability based on their respective jurisdictions. Held on 27 July 2023, the second workshop focused on consumer protection issues involving misleading claims through greenwashing or green claims, which recently has become a common tactic for businesses to further market their products or services to eco-conscious consumers.
The workshop highlighted measures taken by the different jurisdictions in response to greenwashing, such as Indonesia's environmental labelling scheme, the ACCC's greenwashing internet sweep and greenwashing guidance, the CMA's environmental sustainability advice to government, its enforcement work and its Green Claims Code Campaign. The speakers also emphasised their roles in educating both businesses and consumers to promote sustainable consumption and production.
"We need to have a deeper understanding of sustainable consumption reforms and activities towards consumers and the environment. This represents a challenge to most ASEAN Member States, thus we are keen to learn and exchange best practices to find the most effective means to promote responsible consumption and production. This is needed to drive the participation of responsible and empowered consumers," said Atty. Ruth B. Castelo, Undersecretary of the Consumer Protection Group (CPG), Department of Trade and Industry (DTI), the Philippines and Chair of the ACCP.".
The two workshops underscored the collaborative spirit among ASEAN, the UK, and Australia, demonstrating their shared commitment to addressing global challenges through collective action and the development and sharing of best practice. Attendees highlighted the importance of fostering cross-border partnerships and knowledge sharing to create a holistic approach that fosters sustainable economic growth while safeguarding our planet's resources. ASEAN, the UK and Australia firmly believe that this first dialogue on sustainability will pave ways to more collaborative efforts on exploring how sustainability, competition and consumer protection policies can complement each other to achieve a harmonious balance between economic growth and environmental stewardship.